On May 1, International Workers' Day, over 1,000 Google employees from offices across the globe participated in a sit-in to oppose the retaliation they say some employees are facing after they organized the Google Walkout last November. The Walkout was organized to oppose sexual harassment, a lack of transparency, and fat pay-outs to executive-level harassers. It garnered the support of 20,000 Google employees worldwide, and received widespread media attention.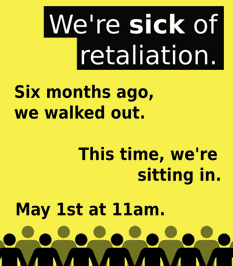 The most recent initiative started on Monday, April 22, when two of the Walkout organizers sent a message that was widely disseminated over Google's internal networks. The lead for Google's Open Research, Meredith Whittaker, wrote that her role was "changed dramatically" and she was told she would have to give up her work in the ethics of artificial intelligence (AI) if she wanted to stay with the company. Fellow organizer Claire Stapleton explained that she was demoted two months after the Walkout, and she experienced increased retaliation once she reported the job change to human resources (HR), eventually prompting her to seek legal counsel. She was able to maintain her work as before, but continues to face a hostile work environment. At the end of their letter, the two women invited other employees to a "Retaliation Town Hall" later that week.
As a result of the town hall and following additional reports of retaliation, Twitter saw an explosion of employee testimonials, criticism of Google, and support for Whittaker and Stapleton under the hashtag #NotOKGoogle. The Twitter handle "Google Walkout for Real Change" also released this message: "From being told to go on sick leave when you're not sick, to having your reports taken away, we're sick of retaliation. Six months ago, we walked out. This time, we're sitting in. 11am tomorrow." The next day, over 1,000 Google employees either "sat in" or called in sick in protest of the retaliation reports.
The protestors put forth a number of demands for change, including fair treatment for Whittaker and Stapleton, and a transparent investigation into the HR department and its handling of employee complaints. Foremost among the demands, however, was a requirement that Google adequately respond to the original Walkout demands raised six months earlier, about which the Sit-in organizers wrote, "in [six months'] time, they've partially met only one of them."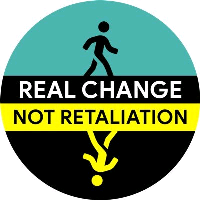 That demand appears to concern arbitration. The Walkout had asked for an end to forced arbitration in all cases of harassment and discrimination, and the ability to have a co-worker or other representative with them in any HR meetings. Google eventually agreed to end forced arbitration for its employees, although it will still contract with other companies that enforce arbitration. Other unanswered demands concern pay equity, establishing a company sexual harassment report, a revamped process for reporting sexual harassment, granting more authority to the Chief Diversity Officer, and appointing an Employee Representative to the Board of Directors.

​
While Google has been provoked to make some important changes, the company has not responded to the majority of its employees' requests, and it is unclear whether Google executives will respond to the Sit-In and its renewed call for change. What has become clear is the potential for committed and tenacious employees to find new and creative ways of transforming their workplace culture.
Click here for our earlier coverage of the Google Walkout for Real Change.