Laura Lefkow-Hynes
ASSOCIATE ATTORNEY AT THE PRINZ LAW FIRM
---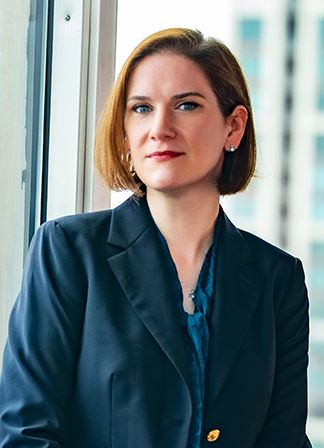 Laura Lefkow-Hynes has concentrated her employment practice on championing the legal rights of people experiencing discrimination, harassment, and retaliation, with a special focus on disability (especially pregnancy and psychiatric disabilities), gender, sexual harassment, and race status claims. Combining pragmatism, empathy, and strong lawyering skills, she is a fierce advocate for employees who have been unjustly targeted simply for who they are or because they reported unethical treatment or conduct. Ms. Lefkow-Hynes also provides expert guidance to business owners and management teams on how to best care for their employees and avoid potential legal claims. She assists the firm's corporate clients in creating healthy, engaging, and prosperous workplaces.
Before joining The Prinz Law Firm, Ms. Lefkow-Hynes clerked in the Chancery Division of the Circuit Court of Cook County. She also secured reasonable accommodations for many tenants with disabilities and successfully defended tenants of subsidized housing during her time at Chicago Legal Aid.
Ms. Lefkow-Hynes has worked with several boutique employment litigation firms, representing clients before the U.S. District Courts for the Northern District of Illinois, the District of Maryland, and the District of Columbia, as well as the Circuit Court of Cook County, the EEOC, the IDHR, and the IDES. In addition to litigating employment civil rights, she also contributed regularly to the Antitrust, Health, Intellectual Property, and Securities Regulation Law Daily newsletters published by WoltersKluwer Law & Business.
Ms. Lefkow-Hynes graduated from Pomona College in 2007 with a Bachelor of Arts degree in political science. Prior to attending law school, Ms. Lefkow-Hynes worked in Washington, D.C. as an aide to then-Congressman Rahm Emanuel, then-Senator Barack Obama, and Senator Dick Durbin. In 2013, she graduated from Northwestern University School of Law, having interned with the City of Chicago Department of Law, the Federal Defender Program, the U.S. District Court, the Chicago Transit Authority, and the Bluhm Juvenile Justice and Criminal Trials & Appeals Clinic.
Ms. Lefkow-Hynes is barred in the Northern District of Illinois and in the District of Maryland. She is the sixth generation of her family to be barred in the State of Illinois. She is an avid genealogist and a commissioned artist specializing in portraiture.
LAURA FOCUSES HER PRACTICE ON:
---
Sexual Harassment
Retaliatory Discharge
FMLA
FFCRA
Employment Arbitration Agreements
EDUCATION
---
J.D., Northwestern University School of Law, 2013
B.A., Political Science, Pomona College, 2007
PROFESSIONAL AND BAR MEMBERSHIPS
---
Chicago Bar Association
National Employment Lawyers' Association
BLOG POSTS
---
See below for this attorney's most recent blog posts.