Justice Elena Kagan threw subtle shade at her fellow justices on the Supreme Court during her conversation with Dean Hari Osofsky as the visiting scholar for the Howard J. Trienens lecture at Northwestern Law School on September 14, 2022. The Supreme Court only has a mandate to "act like a Court," she said, and it should not be an extension of the political process. "Fundamental principles should not be up for grabs" when new associates join the Court. The judicial system loses legitimacy when justices "impose their personal preferences on society." She clearly denoted that by legitimacy she did not mean that the Court's opinions are popular with the public, but whether the public has confidence that the Court is performing its function of judicial review.
When asked about how to restore public trust in the Supreme Court, Justice Kagan suggested that the Court should abide by precedent except in unusual circumstances, use methodologies that constrain the judge and apply them consistently, and commit to Judge Henry Friendly's motto: "when it's not necessary to do more, it's necessary to not do more." Judges should not abandon precedent because of their "personal proclivities" and they should be "respectful of what's come before." She recommended that the Court decrease its use of the "emergency" or "shadow docket" because the Court makes better decisions when reviewing decisions of other appellate courts after full briefing and argument.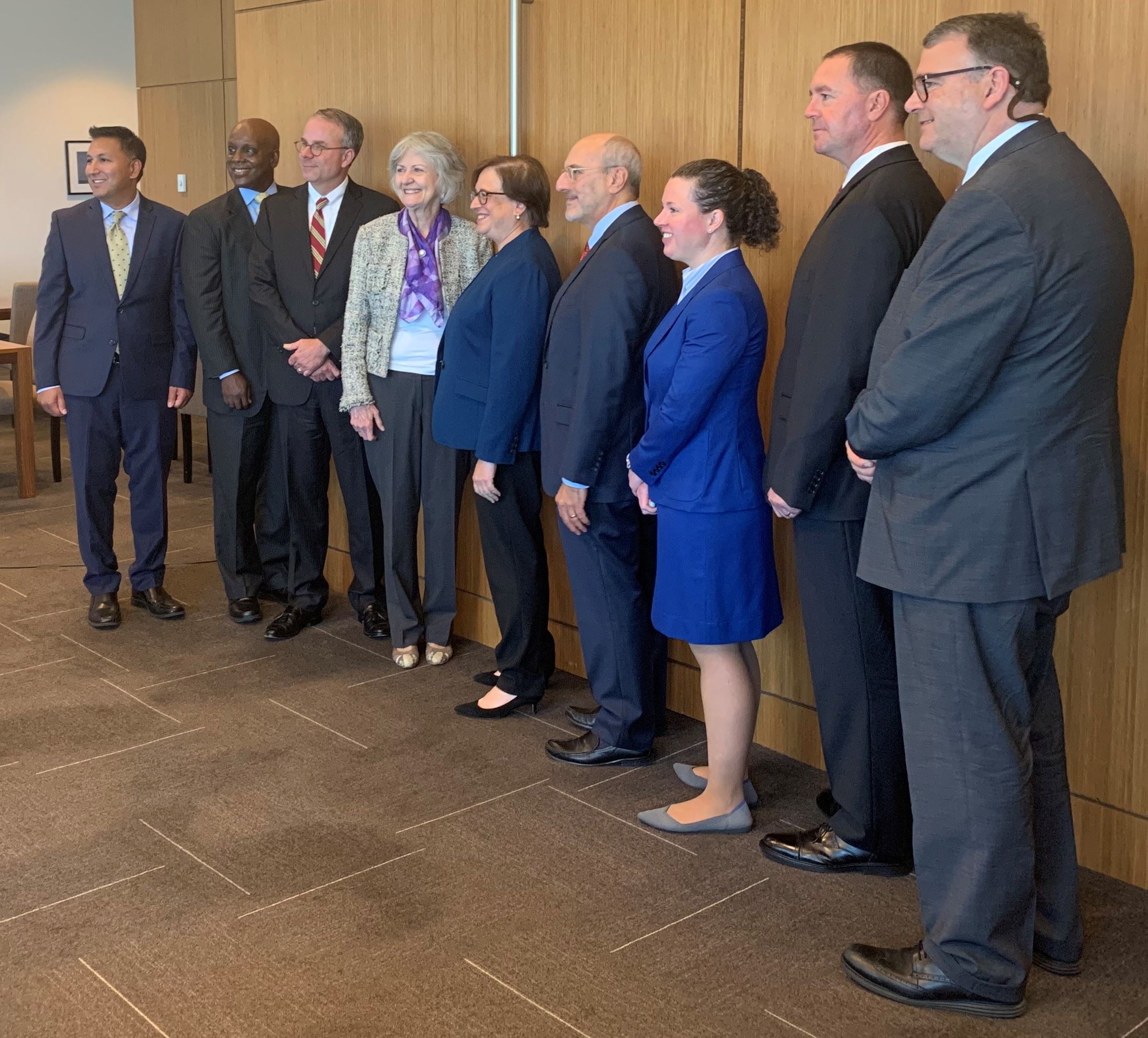 Justice Kagan (center), with (l. to r.) Judges Harjani, Cummings, Scudder, Lefkow, Gilbert, Jantz, Kness, and Fuentes.
Justice Kagan sharply rebuked the Court's recent trend of rejecting precedent, most famously in the Dobbs v. Jackson Women's Health Organization decision overturning Roe v. Wade, though those decisions were not mentioned explicitly. She advocated that individual judges have humility and defer to the institutional wisdom of the Court as built over decades of decisions. Because of the stability created by precedent, the law should change incrementally. Stare decisis should not be overcome unless a holding were an island in the sea and had become incongruous with the world around it. She cited as examples technological or social changes that created different worlds and made doctrines unworkable.
Justice Kagan called out judges who change their application of legal doctrines "as desired outcomes change." She advocated for jurists to have methodologies that constrain them and apply them consistently, citing the majority's opinion in West Virginia v. Environmental Protection Agency, 597 U.S. __ (2022) to illustrate that one should not "be a textualist only when it's convenient." In that decision, the Court abandoned textualism, claiming that the plain language of the statute must be set aside because the EPA's authority to regulate greenhouse gas emissions fell under the "major questions doctrine." This marked the first time the Court endorsed the major questions doctrine, which requires Congress to explicitly authorize agencies to regulate issues the Court considers to be of vast significance. Justice Kagan rejects the major questions doctrine because it allows judges to rewrite statutes.
It was not only the Court's flexibility in applying textualism that drew her criticism, but also its interpretation of the Constitution. Though she had famously said, "we are all originalists now" in her confirmation hearing, she could not say that was still true because of the fluctuating definition of "originalism." Recent Court opinions have interpreted originalism as the public meaning of the Constitution in 1789 and as the intent of the framers to create a statement of principles that would "survive for the ages." Justice Kagan, with quiet force, said, "You have to take [the drafters of the Constitution] at their word that they wanted those principles to be applied generally to circumstances they wouldn't imagine."
Justice Kagan has a resume that most lawyers can only dream of: she has degrees from Princeton University, Oxford, and Harvard Law School, and she clerked for Judge Abner Mikva of the U.S. Court of Appeals for the D.C. Circuit and for Justice Thurgood Marshall. She was a law professor at University of Chicago and Harvard, and later dean of Harvard Law School. She served for four years as Associate Counsel to the President during the Clinton administration, and as Deputy Assistant to the President for Domestic Policy. In 2009, President Obama nominated her as Solicitor General of the United States, and then in 2010, he nominated her to fill the vacancy of retiring justice John Paul Stevens.
Hailed as a "pathbreaking legal leader," she was also asked about her legal career and her mentors, Justice Thurgood Marshall, Justice John Paul Stevens, and Judge Abner Mikva. She was drawn to the law because she loves solving puzzles and a real difference can be made. When asked about her influences, she cited Judge Mikva, the great Chicago politician and judge, as "the greatest mentor she ever had." Clerking for Justice Marshall was the greatest privilege of her life, because he was the "greatest lawyer of the 20th century, bar none." Not only did he have a range of skills—a great trial lawyer, appellate lawyer, and storyteller—but he did the most justice. She noted that what he did before he was elevated to the nation's highest court was the most important work he did. Justice Marshall won 29 of the 32 civil rights cases he argued before the Supreme Court, including the landmark Brown v. the Board of Education in 1954. She described Justice Stevens, a beloved Northwestern alumnus, as independent, brilliant, and a fundamentally decent human being. He told her that every day was an opportunity to learn something new, a commitment which she thought was a great way to approach being a justice.