NICHOLAS CRAWFORD
ASSOCIATE ATTORNEY AT THE PRINZ LAW FIRM
---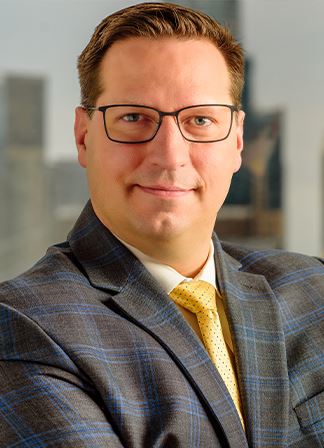 Nicholas Crawford is an employment and business attorney with The Prinz Law Firm. He is a skilled business counselor and brings to the firm 20 years of experience advising leadership and developing teams dedicated to maximizing growth and profit with a focus on minimizing legal risk. From venture capital startups and owner-managed enterprises to large multi-national publicly traded companies, Nicholas has experience in both operations and human resources in the hospitality, contract services, insurance, manufacturing, and professional services industries.
Nicholas's experience includes building relationships and resolving disputes between management and labor, including negotiating labor contracts on behalf of management with Teamsters, SEIU, and AFL-CIO affiliate unions, and guiding businesses through decertification campaigns, election campaigns, lockouts, strikes, arbitration, grievances, and other complex labor relations issues. Nicholas is a skilled employee relations investigator, having completed numerous complex internal investigations. He has designed, advised, and managed HR risk mitigation initiatives tailored to help businesses avoid litigation.
As a Senior Human Resource leader for a top multi-national contract catering and service business, Nicholas has experience in managing and advising leadership on M&A activities, including developing HR merger strategy for benefits, payroll, and compensation, and aligning roles and responsibilities in newly merged and created companies. Additionally, Nicholas has experience in M&A due diligence efforts related to compliance, compensation, benefits, and management.
As an advisor to C-suite leadership, Nicholas has developed and led executive leadership development programs, mentorship programs, strategic planning, and organization design initiatives. A trusted partner for managers at all levels, Nicholas builds leadership and decision-making capabilities through a collaborative counseling approach that seeks to first understand a business's demands, challenges, goals, and objectives, from which he can develop a tailored advising approach.
Nicholas lives in Arlington Heights with his husband Joshua and son Michael. Nicholas is a former licensed foster parent and a longtime supporter of initiatives that ensure a faster route to permanency for children in the foster care system.
PRACTICE AREAS:
---
Employee handbooks and employment policies and procedures
Illinois Wage Payment and Collection Act / wage violations
Pregnancy, race, disability, and gender discrimination, retaliation, and harassment claims
Employee classification
Workplace trainings on sexual harassment prevention, workplace investigations
M&A due diligence
General employment counseling
EDUCATION
---
J.D., DePaul University College of Law
Bachelor of Arts, University of Minnesota
ADMISSIONS
---
BAR ASSOCIATIONS
---
Chicago Bar Association
LAGBAC